Normas de Fabricación de Grúas
Partes de esta Especificación se refieren a ciertas porciones de otras especificaciones, códigos y estándares aplicables. Donde las interpretaciones difieran, CMAA recomienda que se use estas Especificación como guía. Mencionadas en el texto están las últimas revisiones de las publicaciones delas siguientes organizaciones: ANSI American National Standards Institute11 West 42 nd Street New York, New York 10036
Las especificaciones ANSI-ASME que son aplicables a los puentes grúa y a las grúas gantry, polipastos de cadena y cable, los aparatos de debajo del gancho y el equipo asociado ASME The American Society of Mechanical EngineersThree Park AvenueNew York, New York 10016-5990CMAA Crane  Manufacturers  Association of America, Inc.8420 Red Oak Blvd., Suite 201Charlotte, North Carolina 28217-3992Especificación No. 70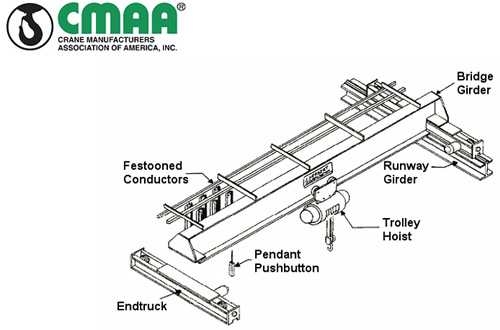 Puentes Grúas Rodantes Eléctricasde Vigas Múltiples de Puente que corre por la Parte Superior y del tipo Gantry.Especificación no. 74 – Grúas Rodantes Eléctricas de viga Simple que corre por la parte Superior e Inferior que Usan Polipasto de Carro que corre por la parte inferior. CMAA Manual para Operadores de grúas Inspección y Lista de Verificación de Mantenimiento del Puente Grúa.MMA Monoraíl  Manufacturers  Association8720 Red Oak  Blvd., Suite 201Charlotte, North Carolina 28217-3992Especificación No. MH27.1 – Estándar para Grúas de Testera inferior y Sistemas de Monorriel patentados.NEC/NFPA National Electric Code National Fire  Protection Association1 Batterymarch Park, P.O. Box 9101Quincy, Massachusetts 02269-9101OSHA U.S. Department of labor Directorate of Safety Standards Programs200 Constitution  Avenue, N.W.Washington, D.C. 20210CFR 29 Parte 0910 – Estándares de Seguridad y Salud Ocupacional para la Industria Genera.
La grúa que se ofrece es diseñada apegándose a las normas internacionales vigentes, tanto en el Sistema Americano como en el Europeo.
Las Normas base de diseño en el Sistema Americano son las especificaciones No. 70 de CMAA (Crane Manufacturers Association of America Inc.) Revisión 2000; y en el Sistema Europeo son las Normas FEM (Federation Europeenne de la Manutention) Sección I Equipo Pesado de Izaje, Reglas para el diseño de aplicaciones de levante de cadena, segunda edición, año 1970 y las Normas  FEM 1.001 tercera edición, año 1987.
Las normas CMAA toman como referencia algunas porciones de otras especificaciones estándares o códigos, entre los cuales se encuentran: